Watch out Broadway! Last week noon report took on a theatrical tone when Dr Francis Phan shook things up and added an element of role play.
While some our acting skills presented more as comedy, the content was that of pure drama. Inspired by a particularly challenging case of a woman with fluctuating goals of care in the setting of new Hungtington's Disease and also brain metastases, Dr Phan's incentive for this role play session was to help our residents' comfort and fluency with difficult capacity assessments.
To help us feel prepared going into our scripted interactions, Dr Phan provided his very own DMC (decision making capacity) mnemonic: Listen with "U-Ears" (TM)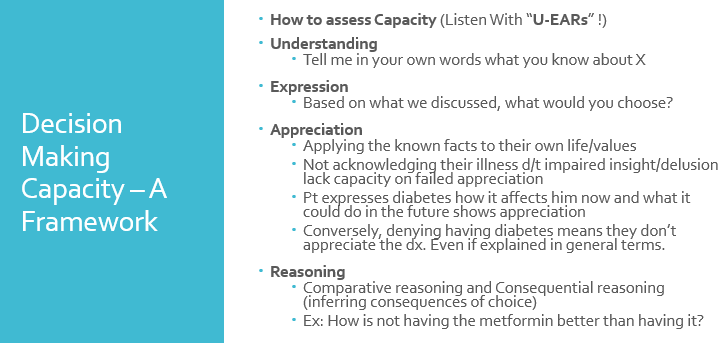 TAKE HOMES:
1) Decision making capacity assessments are hard, having a framework to fall back on can help. Use U-EARS!
2) Reach out for help, get additional input especially with higher stakes decisions
3) Establish SDMs (surrogate decision makers) early
*reference to the classic theater hit "Give My Regards to Broadway" from the 1904 hit musical, Little Johnny Jones